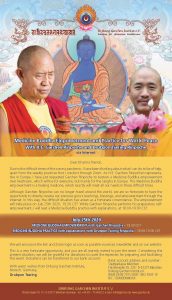 With H.E. Garchen Rinpoche and Drubpon Tsering Rinpoche on July 25th –
Dear Dharma friends,
due to the difficult times of the corona pandemic, I have been thinking about what I can do to be of help, apart from the weekly practices that I conduct through Zoom. As H.E. Garchen Rinpoche's representative in Europe, I have just requested Garchen Rinpoche to bestow a Medicine Buddha empowerment over livestream, which will be for everyone, but mainly for the sangha in Europe. This Medicine Buddha empowerment is a healing medicine, which exactly will meet all our needs in these difficult times.
Although Garchen Rinpoche can no longer travel around the world, we are so fortunate to have the opportunity to directly receive our precious guru's teachings, blessings, and empowerment through the internet. In this way, the difficult situation has arisen as a fortunate circumstance. The empowerment will take place on July 25th 2020, 19:30 CET. While Garchen Rinpoche performs his preparatory selfempowerment, I will lead a Medicine Buddha practice with explanations, at 18:00-19:00 CET.
We will announce the link and Zoom login as soon as possible via email, newsletter and on our website.
This is a very fortunate opportunity, and you are all warmly invited to join the event. Considering the present situation, we will be grateful for donations to cover the expenses for preparing and facilitating this event. Donations can be transferred to our bank account.
With warm wishes from Drikung Garchen Institute, Munich, Germany
Drubpon Tsering
Bank account address and number:
Stadtparkasse München, Fürstenrieder Str. 239, D-81377 München
Drikung Garchen Institut e.V.
IBAN: DE88 7015 0000 1003 5045 19
BIC: SSKMDEMMXXX
DRIKUNG GARCHEN INSTITUT E.V.
Florian-Geyer-Str. 10 · D-81377 München Germany · Tel.:+49 89 – 71048572, e-mail: info@garchen.de, www.garchen.de