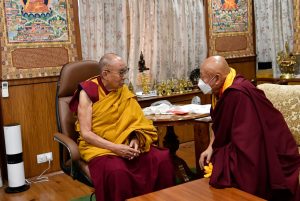 In mid-April, H.H. Drikung Kyabgön returned to India after more than two years. Due to the pandemic, travel was limited and H.H. spent extended periods of time in Vietnam, Taiwan and the USA.
The first visit was to the Dalai Lama in Dharamsala, where he received him in a private audience.
At Drikung Kagyu Institute, H.H. visited the various institutions such as Samtenling Nunnery, Jangchub Ling Monastery, Songtsen Library and Kagyu College. H.H. conducted ceremonies and gave teachings.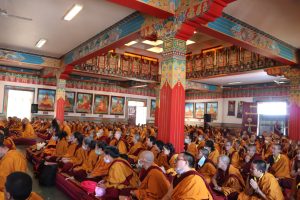 In mid-May, His Holiness left Jispa and traveled to Ladakh via the Taglang La. He was officially received at Rumtse Leh Manali Road by dignitaries including H.E. Ladakh Chosjey Togdan Rinpoche, H.E. Drukpa Thugsey Rinpoche, H.E. Chokyong Palga Rinpoche, Chogzot of Hemis Monastery, and many official representatives of the government and associations.
When they arrived at Phyang Monastery, monks and lay devotees conducted a traditional reception with scarves, flowers and incense. His Holiness took his seat in the monastery where all the various representatives gathered and he gave a short speech.
On May 16, 2022, at the request of Ladakh Buddhist Assocaition (LBA), His Holiness presided as the chief guest at the grand occasion of 2566th Buddha Purnima Celebration at the historic Polo Field in Leh. His Excellency the Lieutenant-Governor of the Union Territory of Ladakh, Sh. RK Mathur, H.E. Thugsey Rinpoche, Gar Namrol Rinpoche, Khenchen Nyima Gyaltsen Rinpoche, Sh. Jamyang Tsering Namgyal (MP Ladakh), Chairmen/CEC LAHDC Leh, executives and council members of LAHDC Leh, President of Ladakh Buddhist Association and Ladakh Gonpa Association, monks and nuns from different monasteries were present in this historic ceremony.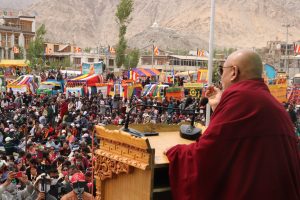 His Holiness presented the awards to the students of different schools. Finally, His Holiness addressed the assembled guests of honor and the public briefly. He is the first great spiritual master to visit Ladakh after the pandemic, and after the pandemic it was the first time that many distinguished guests and the public were actively gathered at the historic Polo Field to celebrate Buddha Purnima.
During his visit, H.H. will start the campaign of GoGreen GoOrganic, which will join other organizations to plant 150,000 trees in Ladakh. More info