New series of events from 6.11.2021 to 23.01.2022,
each Saturday and Sunday from 14.30 – 16.30 CET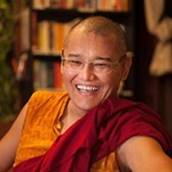 The teachings on "The King of Samadhis Sutra – The Revealed Equality of All Phenomena" have never been given in Europe before, so it is a special opportunity! H.H. Drikung Kyabgön Thinley Lhundup commented that this is a very auspicious event.
The King of Samadhis Sutra is one of the most frequently recited Mahayana sutras in Tibetan Buddhism. A written form of this sutra has existed in India since the 2nd or 3rd century, and an ancient Sanskrit manuscript from the 6th or 7th century was discovered in Gilgit in present-day Pakistan.
In this sutra, the term samadhi is not presented solely in its meaning of immersion, concentration, or meditation. Samadhi here also refers to a whole set of Buddhist practices for behavior, view, motivation, and realization. In a very poetic language, the Buddha draws from the wealth of his experiences and thus touches on an almost encyclopedic breadth of topics. The main theme, however, is the realization of the equality of all phenomena, through which alone the world is overcome.
Dates
Saturday, 06.11.2021 / Sunday, 07.11.2021
Saturday, 13.11.2021 / Sunday, 14.11.2021
Saturday, 20.11.2021 / Sunday, 21.11.2021
Saturday, 04.12.2021 / Sunday, 05.12.2021
Monday, 13.12.2021 / Tuesday, 14.12.2021
Saturday, 18.12.2021 / Sunday, 19.12.2021
Saturday, 08.01.2022 / Sunday, 09.01.2022
Saturday, 15.01.2022 / Sunday, 16.01.2022
Saturday, 22.01.2022 / Sunday, 23.01.2022
each from 14.30 – 16.30 CET
Translations
German: Katrin Querl and Sonam Spitz
English: Virginia Blum
Chinese: Konchog Phuntsog
Text templates
The German language book "König der Samadhis" is available through the Dharma Shop of Milarepa Retreat Center. Price: 39,90€
An English translation "The King of Samadhis Sutra" is available online for free.
Registration
If you would like to participate in the online events, please send an email to: <info@milareparetreat.de> preferably by 03.11.21.
The access data for Zoom will then be sent to all those who have registered. Further information