Jullay,
My name is Susanne Mic, and I am the 1st board member of the Drikung Förderverein Mahamaya e.V. in Regensburg, Germany, which was newly founded in January 2020. At the moment we don't have our own centre here in Regensburg, but we hope that this wish will also come true one day.
We primarily support the Changpa nomads with financial donations from lectures and activities in local schools and inform about the activities of His Holiness in his office as UN World Mountain Ambassador.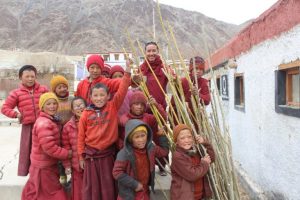 We work closely with the Lamas and Khenpos in the Changthang/ Lalok area, the Shachukul Gonpa School, as well as with Lama Konchok Gyaltsan of GoGreen GoOrganic. Lama Stanzin Norboo Kopay is the local monk in charge. He has now asked me to send some information and words to all centres in Germany and Europe and in his letter (see below) he urgently draws attention to their lack of a hostel system in their region. It has become urgent to build a safe and managed girls' hostel for the nomads from the Changthang region in Leh. His Holiness has already given his blessings for this project and the beginnings have been made.
Information about the construction of the hostel can be found at https://www.mahamaya-ev.de/projekte/hostel/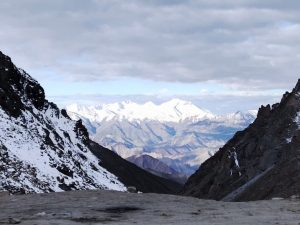 In addition, last year there were severe attacks in Ladakh on the Indian-Tibetan border, during which the nomads lost part of their grazing areas. And water in this region at 5000 metres altitude is becoming scarcer and scarcer as the glaciers in the Himalayas melt due to climate change with consequences like drought and flood.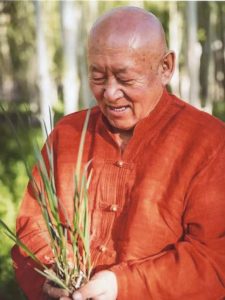 Through the initiative of His Holiness Drikung Kyabgön Chetsang and the monks and monasteries of the Drikung Kagyu lineage active in Ladakh, the rural population as well as the environmental organisation GoGreen GoOrganic founded by His Holiness, many trees have already been planted in the Changthang through donations to counteract the devastation on the Changthang plateau.
We would like to send a request for financial help for the construction of the Changthang Nomad Girls Mahamaya Hostel to all centres and the Sangha, as it is an urgent concern of the monks of the Drikung monasteries in Ladakh, especially the monastery Shachukul.
Please donate through our association account with subject "Hostel construction":
https://www.mahamaya-ev.de/spenden/
Thuk jay che (thank you very much)
Jullay and Tashi Delek
Susanne Mic (representing all members of Mahamaya e.V. Regensburg)
with Lama Stanzin Norboo Kopay (monk of the monastery Schachukul, member of the school committee of the monastery Schachukul in the management team of the monastery school, 2022 responsible monk for the celebrations of GoGreen GoOrganic in the Indian Changthang area with the village Chushul, for the World Environment Day on 5 June 2022, construction manager of the "Changthang Nomadic Girl Mahamaya Hostel" in Choglamsar Leh / Ladakh)
and Lama Konchok Gyaltsan (Secretary of GoGreen GoOrganic) with Lama Sonam Dawa (Headmaster of Schachukul Gardening Gonpa School) and Gyen Lama Jigmet, with the teachers at the monastic school
Thuk Jay Che (thank you very much)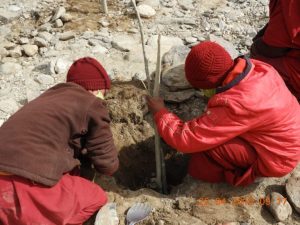 to our root gurus and teachers His Holiness Dalai Lama, His Holiness Drikung Kyabgön Chetsang, His Eminence Garchen Rinpoche, His Eminence Togden Rinpoche (Durbuk, Changthang), Drupon Tsering Rinpoche (Drikung Garchen Institut, Munich)
Khenpo Choskyab (Leh), Khenpo Samten and Khenpo Lama Tashi (Tserkarmo Monastery), great thanks to all the monks involved the Changpa nomads and the rural people of Changthang Lalok and Kargyam area In Ladakh, as well as to the heartily educated students of Schachukul Gonpa School. To all the tree donors and sponsors ♥
May their lives be long and happy.
Further Information and photos at https://www.mahamaya-ev.de/
---
Here is the letter from Lama Stanzin Norboo Kopay
I, Lama Stanzin Norboo Kopay, founder of ECSOL (Education and Cultural Society of Lalok) and President of Shachukul Gonpa School (education of young monks in Drikung Kagyu tradition), am addressing you today to draw attention to our difficult education system in our region, Changthang Lalok, Ladakh, Northern India.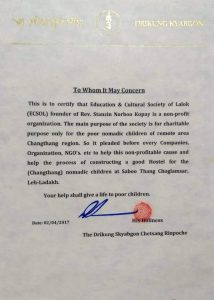 Our organisation ECSOL would like to build Changthang Normadic Girls Mahamaya Hostel in Choglamasar Leh City for the children of Changthang Nomads, as this region in Leh District is one of the most underprivileged settlement areas. As in other societies, people are continuously developing and modernising in all fields, including education. However, the present time is a critical turning point for the future generations. It is now time for someone to take the lead to revamp the long-neglected education system for our children of this region.
I have observed for the last two decades that the education system in District Leh has been improved under various programmes, but with little impact on our region. This is because many of our children who moved to Leh city to attend secondary schools were faced with numerous problems as well as directionless study options. Eventually, even dedicated students decided to take up ordinary jobs. This is the reason why families who could manage to send their children to Leh city for higher education no longer do so.
The following scenarios describe how our education system is weakened and thus our region remains continuously backward:
The social situation for these families: many families live in traditional living conditions, i.e., simple labour, minimal irrigation, nomadic lifestyle in impassable high mountain areas. These families do not get the chance to produce the first generation of educated people because no one is interested in this region.
The economic situation of these families: due to the simple living conditions, there is rarely enough money to finance the further education of their children. The poverty of the family often forces the children and adolescents to drop out of school at intermediate and higher levels of education. This means that these children reluctantly choose a profession similar to that of their parents.
The dangerous situation for the nomadic children: A study from Leh city reveals that the crimes against the girls are mainly taking place in rural Ladakh, which includes our region. Unfortunately, however, this region does not have a single hostel for male as well as female students. Our girls are constantly harassed and threatened by landlords and professionals (From officers to drivers) etc. There are a number of rape incidents unfortunately.
The non-existent hostel system: It is the wish of every society that children grow up with a sound education and safe educational system and infrastructure (from building to internet) in a supervised environment (from housing to work culture). To achieve this, at least a residential system is a solution so that the children in the city have a safe shelter and care for a good future.
The imbalance of our region: currently there are few ways to counteract all the imbalances in the region. After long debates and discussions in ECSOL, we have decided to push for the development of this hostel system to secure, protect and nurture our young generation.
Finally, I would like to say that despite decades of efforts, we (ESCOL team) are still in the initial stages as we are unfortunately very much behind financially. Our vision is to transform a decayed system into a unified system for our future society. We are now in possession of a plot of land and have started to lay the foundation for the Changthang Nomadic Girls Mahamaya Hostel, thanks in part to the financial help of the association Mahamaya Drikung Förderkreis e.V. from Regensburg. In order to build up and expand the hostel step by step, we urgently need your financial support.
With kind regards
Lama Stanzen Norboo Kopay, Ladakh