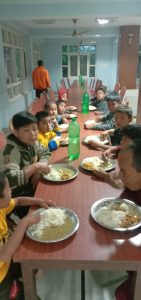 The Amitabha Mandala Retreat Center in Nepal recently welcomed a new group of 45 monks. They are presently getting adjusted, with 4 or 5 together in small rooms. The Retreat Center does not have proper monks' quarters, but parents who are desperate keep asking for their children to be taken in. Ten more boys are awaiting for admission, but the limited accommodations are all full for now.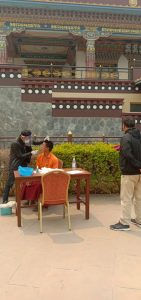 Hospital staff came to do RT-PCR tests on the new monks to check for Coronavirus, at a charge of Rs 1200 (USD $10.00) for each monk. This was expensive, but more feasible than taking all of them to the hospital, which is also dangerous at the present time.
In India, Rinpoche's monastery is currently safe from the Coronavirus. However, the situation is deteriorating throughout India, and especially in Karnataka state, where the monastery is located. In addition, the monks have so many other health issues that until recently, they were constantly being taken to the hospital, which is growing more and more risky because of the overflow of Covid cases. Health care is one of the most expensive costs of supporting the monks, and one for which it is difficult to plan.
You can make a big difference by helping to support the medical costs of the monks under Rinpoche's care in India and Nepal.
Thank you for caring,
Becky, for the Amitabha Foundation USA
and H.E. Choje Ayang Rinpoche
Donations can be done to the account of Amitabha Stiftung in Germany
IBAN: DE50 4306 0967 4027 1462 02
BIC: GENODEM1GLS
GLS Bank Bochum