Show Your Love Through Giving
Fundraising for Tso Pema: A Community in Need of Food
Dear Dharma brothers and sisters,
We all are in the midst of unprecedented times which have inflicted much suffering due to COVID-19 pandemic. Due to the hard lockdown controls in India, many people are suffering because they are not able to earn daily wages to put food on their table and situation continues to become dire.
In order to combat the sufferings inflicted by COVID-19, Ontul Rinpoche's monastery is planning on providing a basic food package to each needy family; local poor Indians and Tibetans (monks and lay man) who are under the poverty line. The cost of food package estimated at Rs800 which is around $11 that will serve 1 week of meal to all local residents of Tso Pema. With more than 200 people in the monastery's area including Tibetans, local Indians and migrant workers, the cost of the food to last for a week is about $2200. Also,the Rinpoches (Ontul Rinpoche and his son Ratna Rinpoche) will be giving monetary donation to the local organization that will help people in crisis due to the COVID-19.
The long-term goal of the monastery would be to provide masks, hand sanitizers and other basic needs to Tso Pema residents who have become victims of the pandemic. The local residents of Tso Pema have minimal support and this contribution will bring immense value.
Support for the monastery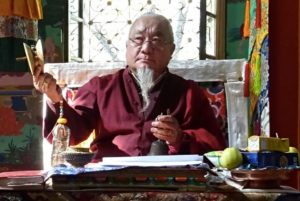 Also, Ontul Rinpoche's monastery in Tso Pema, India is also facing many challenges. The day to day monastery operation is directly dependent on the income raised by café, small shop, guest houses, butter lamp offering and offering of pujas to the monks, however due to lock down everything has come to a standstill. The monastery's Net Income was between Rs 50,000 to 60,000 for the month of December and January (peak season) but in the month of February was Rs 500 only due to the severe lockdown measures. There are more than 60 people including monks, nuns and lay people that live in the monastery.
Therefore, I am taking this initiative to contact all disciples, friends and those who are connected to Ontul Rinpocheto come forward with any donations that will go directly to much needed people in Tso Pema.
How to donate:
If you wish to send the donation directly to the monastery, please find the bank account details here (please mention the purpose as "COVID19 welfare measures")
In Europe you can transfer your donation to the account of Lotussee Drikung Dharma Center in Hamburg, Germany
Please write an email to lotusseehamburg@web.de for the bank details.
Thank you everyone for taking the time to read this email and prayers to you and your family from this pandemic.
Wangchuk Lhamo (daughter of Drikung Lho Ontul Rinpoche)
Under the auspicious guidance of H.E. Lho Ontul Rinpoche and Ratna Rinpoche la, the Drikung Kagyu Monastery at Tsopema (Rewalsar) has initiated the Covid19 Welfare Measures with the aim of providing help to the vulnerable daily workers from other states, poor local Indians and Tibetans living in and around Tsopema (Rewalsar).
On the 2nd of May, H.E. Lho Ontul Rinpoche la blessed the Covid19 Welfare Measures with his presence along with the Chairman and the Secretary of Rewalsar Municipality.
The Drikung Covid19 Welfare Measures has so far successfully distributed 3060 kilograms of essential food items to 170 families. Each of the needy family received 18 kilograms of Rice, Flour, lentil, Onions, Potatoes, cooking oil, Salt, Sugar, Tea and Milk.