The year started on a very auspicious note. Six nuns completed their graduation and three of them are now teaching here at the nunnery.
Staff changes in the monastery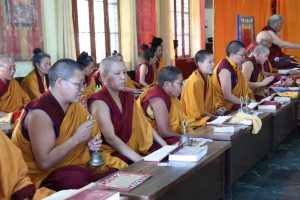 After his beautiful journey as the Retreat Master, Drupon Tenzin La has now resigned from this responsibility and is currently leading the monthly Kundrick rituals.
Ani Dedon La has been appointed as the new Retreat Master. She has been in retreat since 2005 and has not left her retreat cottage since then. She took a short break of 2 months to attend special teachings in Ladakh.
Acharya Sonam Yangdol has been appointed as the new Chant Master and Acharya Sonam has taken over has the new Headmistress.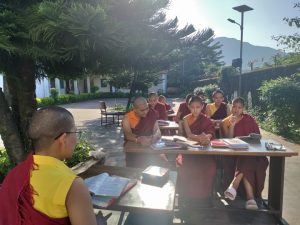 Our nuns are being taught English by Miss. Shreya Nigam (MBA in Marketing and Business Management). She is a volunteer here at the nunnery.
The nuns are being taught Sanskrit by Miss. Shivangi Devi (Sashrti, MA in Sanskrit, B'ed).
Both the teachers are well qualified and have a varied work experience. They are very loving with the nuns and teach them with well.
Our nunnery will also conduct half yearly and annual exams to track the progress of all the students.
Our new nuns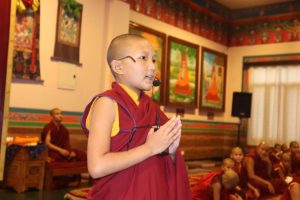 This year we were very fortunate to receive 21 new nuns. Two nuns belong to Ladakh, popularly known as "the land of High Passes". Two nuns have come from Arunachal Pradesh, located on the North-Eastern tip of India with it's misty hills, sparkling rivers and gurgling waterfalls. Seventeen nuns have come from Nepal, home to the mighty Mt. Everest.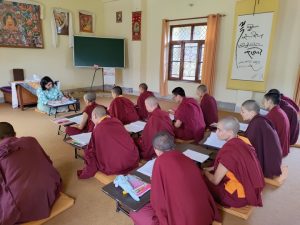 The new nuns have settled well here. They are focusing on their studies and making new friends.
We are very happy to share that we have a total of 107 nuns at the nunnery now. Our days are full of joy with young nuns playing, studying, some helping out in the kitchen, doing their prayers and living in harmony with one another.
Activities in the monastery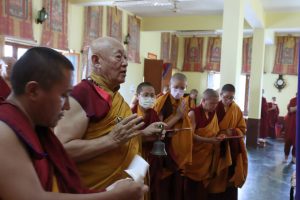 From 25th April to the first week of May, a very auspicious Vajravarahi Sadhana was performed. It was led by our Root Guru, His Holiness Drikung Kyabgon Chetsang Rinpoche. A beautiful and intricate mandala for the Puja was made by the nuns.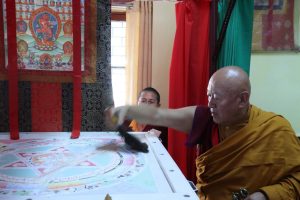 On 12th August the annual summer retreat began as per the Vinaya code of teachings. The retreat went on for one and a half months. On it's completion a special program was organized in Kagyu College form 23rd-24th September. Our nuns also participated in all the functions and displayed a lot of enthusiasm and team spirit. They took part in debate competitions while senior nuns gave Dharma Talks. We are delighted to share that even the very young nuns participated. Some told moral stories in different languages while some recited poetry. The summer retreat was thus completed with a lot of joy and prayers for the well being of all sentient beings.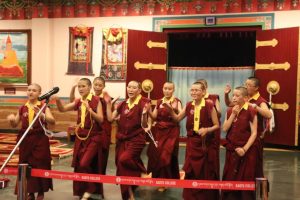 The nuns who stayed back at the nunnery during the summer vacations in June-July, enjoyed a restful vacation. We took them for a fun picnic in a beautiful spot amidst the lush valley of Dehradun. They also had 3 classes daily during the vacation to brush up on their skills and knowledge.
We are very happy with the blessings of His Holiness.
Your support has been vital for our growth. Thank you, with good wishes and prayers.
Tashi Dolkar (Director) Yeshi Dolma (Secretary)