His Holiness Drikung Kyabgön Chetsang Rinpoche, Thinle Lhundrup, Supreme Co-Head of the Drikung Kagyu Lineage, invites the Mahayana Bhikshuni Sangha to return to Shravasti, India in 2023 for the first time in 2000 years. The main purpose of this program is to bring together Mahayana Bhikshunis in the Dharmaguptaka lineage from different traditions to live harmoniously for one half-Varsa, to learn from each other, and to vitalize the power of Dharma in this new monastery for the good of future monastics and laity. It will be a rare opportunity to share knowledge and experiences on the path of Dharma.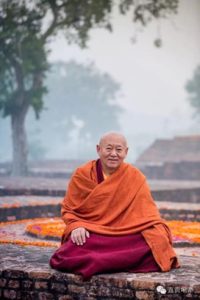 His Holiness has established the Great Shravasti International Buddhist Temple in Shravasti, India. Here, there are suitable places for meditation, study, and Sima for bhikshuni practice. Shravasti is one of the four avijahitatthanam – 'unchangeable spots' – in the lives of all Samma Sambuddhas. This is the holy place where Buddha taught 800 Sutras and spent 25 Varsas, or summer rain retreats. The remains of Jetavana are one kilometer from the Great Shravasti Buddhist Temple.
The program will host bhikshunis and novices from countries holding the Dharmaguptaka ordination lineage and those in the Tibetan tradition. This includes Vietnam, Korea, Taiwan, Malaysia, Mainland China, and US/Europe/Australia.
The retreat will contribute to Sangha education, diligent practice, and openhearted intra-faith sharing and will explore: Precepts, Samadhi, Wisdom, Community.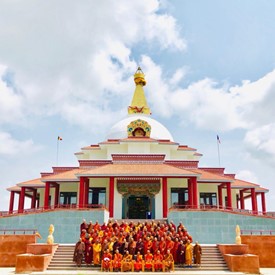 Interspersed with the Vinaya teaching will be Samadhi retreats and community discussion. Community will be a thread throughout the retreat. We will lead reflection on 21st-century monasticism and on applying the Dharma to the current needs of the world. We are inviting senior teachers from the participating monasteries/traditions to be on our faculty for the retreat, and an international committee is currently co-creating the curriculum for the retreat.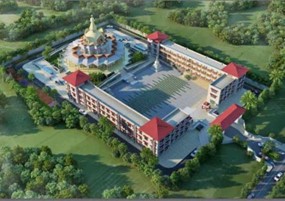 Every effort will be made to document the retreat by capturing audio of the teachings so the wisdom can be shared and can benefit the greater Sangha in a long-lasting manner. Additionally, Ven. Khenmo Trinlay, a Drikung editor, will create a book of our proceedings. We believe this plan will allow us to share the jewels of our practice traditions as well as our community's wisdom with each other.