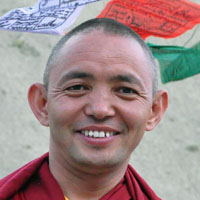 Khenpo Konchok Chökyab was born in 1977 in the village of Umla, Ladakh in a farming family. At the age of eleven, he took novice vows at Phyang Monastery. Together with Khenpo Rangdol and Khenpo Tamphel, he belonged to the first group of monks who began studying Buddhist philosophy at the newly founded Drikung Kagyu Institute in Dehra Dun in 1987. With the support of His Holiness Drikung Kyabgön Chetsang, after nine years at the Drikung Kagyu Institute, he was able to continue his studies at the Sakya Dzongsar Institute for another three years.
He then taught the monks of Jangchubling Monastery and the nuns of Samtenling Nunnery at the Drikung Kagyu Institute. With H.E. Nubpa Rinpoche he revised the collected works of the great master Dharmakirti (Kunkhyen Rigzin Chödrak, 1595-1659) and with H.H. Drikung Kyabgön Chetsang the writings of the accomplished Kyobpa Jigten Sumgön (1143-1217), who founded the Drikung Kagyü lineage.
During the snake year instructions, he received the full transmissions of the Drikung Kagyü tradition in the winter months of 2000/2001 and instruction and transmissions to Chakrasamvara (Khorlo Demchog) from H.H. Je Khenpo Rinpoche during a two-month stay in Bhutan. He then studied Buddhist logic, the Prajnaparamita Sutras and the teachings of the Madyamaka philosophy with Je Rinpoche at Drepung Loseling Monastery in southern India for another nine years.
Through his intensive efforts, Khenpo Konchok Chökyab was able to complete not only the study of the teachings of Drikung Kagyü, but also the Sakya and Gelug tradition, and in 2009 received the title of Khenpo from His Holiness, Drikung Kyabgön Chetsang. Since then he has been one of the responsible Khenpos at Kagyu College.