On the 22nd day of the 9th month of the Tibetan calendar, His Holiness Drikung Kyabgön Chuntsang, one of the two lineage holders of the Drikung lineage, has his birthday. This year he will be 80 years old. His Holiness is considered to be the manifestation of the Wisdom Bodhisattva Manjushri. He supports, promotes and guides the Drikung Lineage from his residence in Lhasa, the capital of Tibet.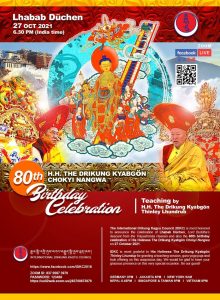 We invite all Dharma friends to join all Drikung centers in wishing His Holiness good health and long life by reciting the White Tara mantra. If we recite this mantra with a pure mind and wholeheartedly many times, we can also simultaneously include all sentient beings in this mantra meditation:
May they be happy, free from suffering, and enjoy a long and fulfilling life.
OM TARE TUTTARE TURE MAMA AYUR GYANA PUNYE PUSHTING KURU SVAHA
The mantra accumulation ends on His Holiness' birthday and is ceremonially presented to him as a gift. According to the Western calendar, this is on October 27, 2021.
If you recite white tara mantras for H.H. Drikung Kyabgön Chuntsang, you can enter the number through the link below and participate in the worldwide practice:
https://idkc.net/mantra-accumulation/index.php?fbclid=IwAR31uunuvMPLz4AF0H2yFDP_saVIkwiGAZg1yhGe72ilVjnVV1VwQdkr7Ts
Further announcements of celebration you can join online: