Support in the difficult continuation of a monastery rich in tradition.
The teachings of the Buddha have been passed on and practiced for over 2600 years thanks to the great scholars and meditation masters who have kept these precious teachings alive in their original, authentic form. However, in recent decades we have seen a decline in the number of monks and nuns in the monasteries of the Himalayan region. Masters and Rinpoches are doing everything in their power to motivate families and parents to place their children in monastic institutions to keep the wonderful Dharma alive.
Tserkarmo Monastery is also facing similar problems. Many of the older lamas have passed away and some of our valuable teachers are already in their late 80's. Unfortunately, no new young monks have joined the monastery in the last eight years. The old monasteries with their unique Buddhist culture can only be preserved and develop further if we have a new generation in the monastic community. Otherwise, there is a danger that all these places of wisdom and meditation will one day become nothing more than works of art for visitors and eventually be forgotten.
Tserkarmo Monastery is aware of the implications of this difficult situation and has reached out to families and parents in the surrounding villages to encourage them to place their children in monastic education so that they become part of the monastery.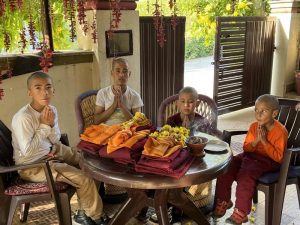 Today we are happy to inform you about the success of our campaign: Five boys have happily chosen to follow the spiritual path of the Buddha. All the boys were blessed and ordained by His Holiness Drikung Kyabgön Chetsang. They are now studying at Drikung Kagyu Institute and Kagyu College, the lineage's headquarters in India, where they will receive all monastic and a modern education for the next 10 years. Tserkarmo Monastery has promised the boys' parents to pay for all necessary expenses until they complete their studies.
Support for the young monks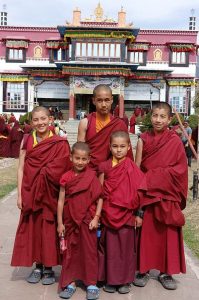 In order to make this happen, we are looking for one or two sponsors for each of these young monks. These will help us to take care of them.
We therefore humbly ask you to support us through sponsorship, donations (donation account of Himalaya Haus e.V. see below) or in any other way to promote the growth of the monastic community. Some of you have been supporting us for many years and we would like to thank you for all your love and support.
Sponsorship allows us to cover the costs of housing, food and education. This requires a monthly amount of 50 €. It is also possible to take over a half sponsorship for 25 €. If you are interested or for further information, please contact me via the Himalaya Haus contact details.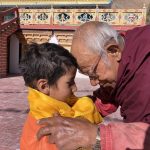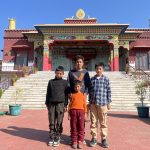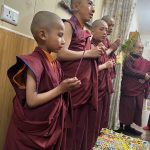 Finally, we would like to convey to you our sincere prayers and best wishes for your health and spiritual growth.
Jullay,
Lama Samten
for Tserkarmo Monastery & Himalaya Haus e.V.
Himalaya Haus e.V.
Gießenerstraße 52 – 35435 Wettenberg / Gießen / Germany
https://himalayahaus.de – info@himalayahaus.de – Tel.: 0049176 301 56 849
Bank details:
Himalaya Haus e.V. – IBAN: DE54 5004 0000 0339 8088 01
Commerzbank AG – BIC: COBADEFFXXX
Intended purpose: Name | Address | Project Young Monks