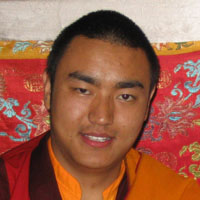 The 9th Nyidzong Söpa Rinpoche was born in 1984 (the year of the wood rat according to the Tibetan calendar). He was confirmed by the two Drikung Kyabgons as rebirth of the late Söpa Rinpoche of the Nyidzong Thekchen Ling monastery.
When he was three years old, he was discovered by H.E. Garchen Rinpoche. The latter performed a ritual wash and wrote a long-life prayer for him. When he was seven years old, he was invited back to Nyidzong Monastery in Qinghai by Lhasa to receive his formal training as a reborn Tulku. From the age of 17 he studied at Drikung Kagyü Drubgyu Buddhist College, Yushu State Buddhist College, Qinghai Province Buddhist College and Serta Larung Ngarik Nangten Lopling.
While giving the Great Inauguration of Drubpa Kagye (the Eight Herukas) in 2006, Garchen Rinpoche gave Söpa Rinpoche a crystal, a mala and some ritual objects. From then on, Söpa Rinpoche became one of his heart sons. Garchen Rinpoche praised Söpa Rinpoche: "Of the 13 tulkus I have discovered, Söpa Rinpoche is the most capable."
In order to revive the line instruction of the Nyidzong monastery, Söpa Rinpoche began at the age of 20 to move the monastery back from the remote high mountains to the promontory where the monastery was originally founded 800 years ago. This was before long predicted in writing by the line masters. During the great Qinghai earthquake in 2010, a large part of the already completed construction was damaged. Nevertheless, Söpa Rinpoche stuck to his reconstruction plan and did not give up.
After the monastery was completely relocated and rebuilt in 2015, Söpa Rinpoche immediately retired to the three-year retreat. He finished his retreat in 2018 and a solemn ceremony was held in honor of the completion. Over 10,000 people attended the ceremony.
Söpa Rinpoche attaches great importance to the education and upbringing of the monks in the monastery. There are currently 128 adult monks in the monastery. Nineteen of them study at different Buddhist universities. Fourteen monks are in three-year retreat to practice the Six Yogas from Naropa. A monk makes a retreat for the protector Achi. In addition, there are 65 young monks who are taught in the monastery.