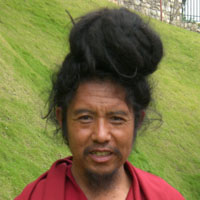 Khenpo Könchok Tashi Rinpoche was born in Ladakh in 1963, the day of Saka Dawa (Saka Dawa is the holiest day in Buddhism, celebrating the birthday, enlightenment, and parivirvana of Budhha Shakyamuni). Rinpoche entered the Lamayuru monastery (Ladakh, India) at the age of six. This monastery is one of the most important of the Drikung Kagyu lineage today. He was then ordained at the Yungdrung Tharpa Ling monastery, where he studied Dharma and its rituals, serving the monastery in accordance with ancestral traditions. Under the spiritual benevolence of excellent masters (Khenchen Thupten, Khenchen Kunga Wangchuk, Khenpo Tokdol), he continued his studies until the ultimate title of Khenpo, which he obtained at the age of twenty-six.
At the request of His Holiness Drikung Kyabgön Chetsang, he then became the chief abbot of the Drikung Kagyu Institute in Dehradun, where nearly five hundred monks officiate. After ten years of intense work, he then decides to retire, in order to perfect his Dharma practice.
His first retreat took place in Tatopani, in Nepal, under the guidance of Drubwang Rinpoche, a Drubpön (retreat master) and realized yogi. Following the strictest rules of tradition, Rinpoche will be isolated from contact for three years, with a simple cotton shawl for sole possession. He will then carry out a second cycle of three years, in the Nyenyon cave, in Lapchi, where the great yogi Milarepa meditated twenty-five years, in conditions there again extreme, followed by two other retreats in Mustang, in the mountains of the Annapurna. Rinpoche is one of the few current masters to have completed the twelve-year cycle of meditation retreat based solely on the Teachings of Mahamudra.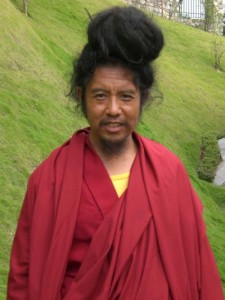 Drubwang Rinpoche passed on his own prayer wheel to him, saying: "You have cut all the attachments of Samsara, now it is your turn to transmit the teachings for the good of all beings." His Holiness Drikung Kyabgön Chetsang, as well as His Eminence Garchen Triptül Rinpoche, also encouraged him to teach. Rinpoche has never stopped transmitting Dharma around the world.
Khenpo Tashi Rinpoche is renowned for the clarity and simplicity of his teachings, as well as for his profound wisdom. An accomplished master, he answers all the requests of his students, teaching the basics of Tibetan Buddhism to the ultimate doctrines (Yoga, Madyamyka, Mahamudra, Dzogchen). His great knowledge of Tibetan divination, his infinite benevolence and his legendary good humor bring joy, help and comfort to all who meet him.
Rinpoche is sought after all over the world but has decided, for our greatest merit, to found an association in France. The Mila Center was thus created on January 03, 2017.