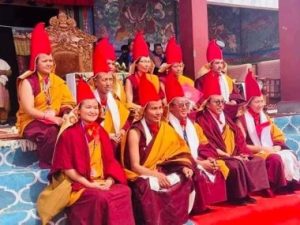 Today we have a total of 109 nuns in our nunnery. If we look at it, This year was actually very auspicious because we celebrated, newly khenmos and Khenpos enthronement ceremony at our Drikung Kagyu College, (Buddhist philosophy) in the presence of HH The Drikung Kyabgon Chesang Rinpoche, two of the great abbots drikung kagyu lineage. Also, we feel proud because in the ceremony six of our nuns became first ever khenmos in the history of Drikung Kagyu, as well as another six of the nuns also completed their graduation among witch three of those nuns are now teaching young nuns here in the nunnery.
Acharya Samten Wangmo has been appointed as the new Chant Master in nunnery and Also, Acharya Sangay Chhoden is new discipliner. They will do their duty for one year in the nunnery and Acharaya Samten dolma went to retreat for three years.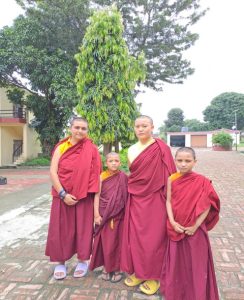 Five young nuns from the ages of 7 to 18 arrived before or in between past six months and also some nuns came in between past one month. They all come from very remote of place of Nepal and leh ladhakh. They are very happy here and doing pretty well with their studies. This year a group of four nuns went to Lithuania Centre to perform Kunrig prayers and Choe.
After finishing summer vaction here seven nuns went to Shravasti for participants of the Varsavas (summer retreat). Also, In the first time different countries nuns came for participants In the historic Varsavas (summer retreat) in Shravasti (UP India).
We now have twelve nuns teachers with Acharya diplomas who are teaching at Samtenling. The office Director and Secretary are both nuns. This year three khenmos stay in retreat for three years. They all kept in good health.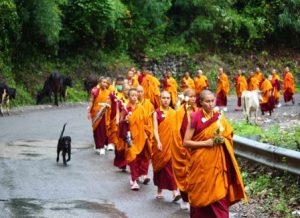 On 1st August the annual summer retreat began as per the Vinaya code of teachings. The summer retreat go on for one and a half months. After finish summer retreat a special program will organize in kagyu college 11th and 12th September.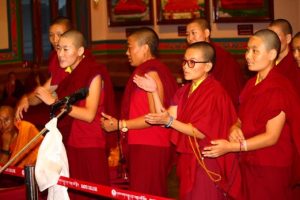 Our nuns will also participate in all the functions and display a lot of enthusiasm and team spirit. They will take in debate competitions while senior nuns give dharma talks. The summer retreat will thus complete with a lot of joy and prayers for the wellbeing of all sentient beings. it gives us immense joy we nuns are very happy and we all are fine and also the nuns are keeping well and studying well.
We are always grateful to our sponsors for your support. Thank you and all members for your kind support us and our nunnery.
We are very happy with the blessings of His Holiness.
Your support has been vital for our growth. Thank you, with good wishes and prayers.
Tashi Dolkar (Director)
Sangzin Dolma (Secretary)
Become a sponsor for a nun!
Over the past 20 years, Samtenling Nunnery has grown steadily and it is very encouraging to see that the nuns now have qualified teachers from within their own ranks and also that a greater number are undertaking or have already completed a three-year retreat. The nuns receive basic secular and religious education at the monastery, in addition to their room, board and medical care from the very beginning. Since the nunnery is financed only by donations, we arrange sponsorships. 40 € are needed per month for one nun. A half sponsorship for 20 € is also possible.
The money from the sponsorships goes to all nuns, so that there are no differences in education etc.. However, those who wish can have an exchange with a particular nun.
If you are interested in a sponsorship, it is best to contact the Drikung Center in Aachen and we can discuss everything further.
Compilation by Christian Licht