Description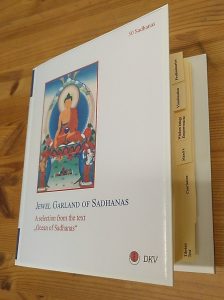 Each Sadhana is also available individually, both as an A5 booklet and in Tibetan landscape format (pecha). They cost €5 each.
In the single sadhanas the general praise and dedication have been replaced by specific prayers for the respective deity.
Please order single sadhanas by email to mandala@drikung.de, specifying the format.
List of included sadhanas:
1. Muni Vajrasana
2. Sadakshara Avalokiteshvara
3. Avalokiteshvara Khasarpani
4. Avalokiteshvara Singhanada
5. Vadiraj Manjughosha
6. Sita Manjushri
7. Manjushrinamasangiti
8. Chanda Vajrapani
9. Bhutadamara Vajrapani
10. Acala
11. Shyāma Tara
12. Sita Tara
13. Janguli Tara
14. Ekajati
15. Chunda
16. Marici
17. Parnashavari
18. Sita Prajnaparamita
19. Kanakavarna Pitaprajnaparamita
20. Sita Sarasvati
21. Rakta Sarasvati
22. Bhrikuti
23. Rakta Kurukulla
24. Sita Kurukulla
25. Ushnishavijaya
26. Sitatapatra Aparajita
27. Vajra Carcika
28. Pratisara
29. Maha Mayuri
30. Maha Sahasrapramardani
31. Mantra Anudharini
32. Maha Shitavati
33. Vajragandhari
34. Vajra Shrinkhala
35. Dhvajagra Keyura
36. Vasudhara
37. Maitreya
38. Jambhala
39. Ucchusma Jambhala
40. Hayagriva
41. Rakta Yamari
42. Krishna Yamari
43. Krishna Yamantaka
44. Maha Yamantaka
45. Vajra Jvala Anala Arka
46. Vajra Hungkara
47. Krodha Mahabala
48. Triloka Vijaya
49. Krodha Vighnantaka
50. Mahakala