This message is for all the Dharma centers of His Eminence Garchen Rinpoche around the world, all of the disciples, the directors, and staff, who have great devotion.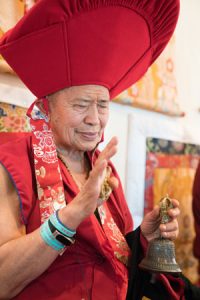 Next year will be a year of astrological challenges for His Eminence Garchen Rinpoche, our lama of immeasurable kindness. Due to the circumstance and also for the reason that Rinpoche is advancing in age, at this time it is of utmost importance for all of the disciples to perfonn long-life practices such as to call upon the deity by accumulating as many White Tara mantras as we possibly can on a continual and ongoing basis. Without delay and in addition to this practice, we intend to organize a global practice of the hundred-thousand-fold Namgyalma offering, and also to accumulate as many of the long dharani mantras of the deity Namgyalma as possible.
We hope that all of you will make utmost efforts to take part in these important events. Please look out for the announcements that will be made shortly about the details of the events and schedules the various Dharma centers are able to plan for this purpose.
The International Administrative Organization for Gargon Monastery on October 6, 2020.
Read more on Garchen Buddhist Institute website.