For about a month, H.H. Drikung Kyabgön Chetsang Thinley Lhundup has been in Ladakh. He supported the GoGreen GoOrganic projects there, which will, among other things, plant 150,000 trees this year. He also gave teachings and initiations.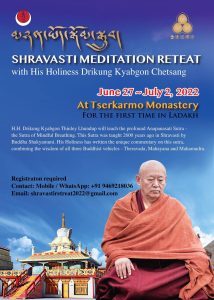 H.H. will lead Shravasti Meditation at Tserkarmo Monastery from June 27 to July 2. He developed this meditation on the base of Anapanasati Sutra and also includes views of Zen and Vajrayana practices up to Mahamudra.
Then, on July 3, H.H. will give an Avalokiteshvara initiation.
It is possible to participate in this event. Travels to India (Delhi) and further to Ladakh are possible without restrictions now.
You can register via WhatsApp (+91 9469218036) or email (shravastiretreat2022@gmail.com).